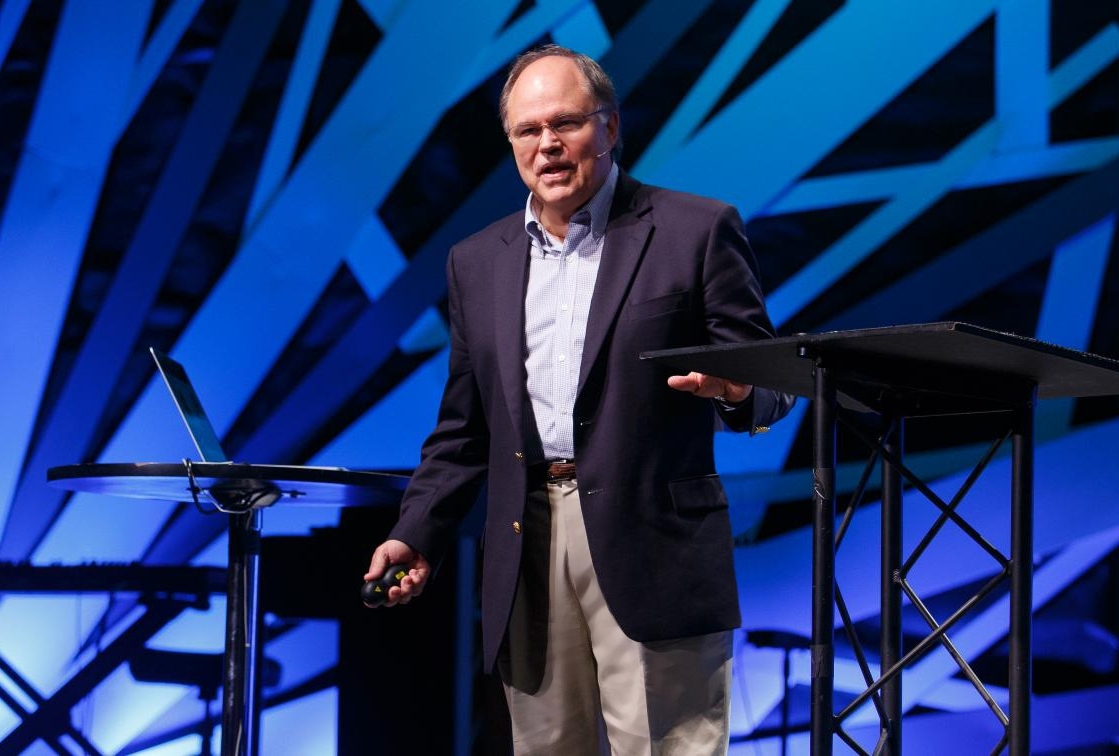 In his passionate and engaging style, Bill speaks at companies, churches, and conferences around the world.
Topics
Discover Your Calling and Purpose
A Biblical Perspective of Work, Vocation, and Calling
Why Your Work Matters to God
Evangelism in a Post-Christian World
Whole-Life Discipleship in a Post-Christian World
Growing a Business that Glorifies God
Sharing the Work & the Joy: How to build a strong marriage and happy home where family members flourish (biblically based workshop with Kathy Peel)

Leveraging Business for Human Flourishing

Why Business Needs God
What Others Say

"The message kept me on the edge of my seat, wondering what would be said next."
"Your work was very important to me on my journey to true discipleship."
"You are a dear man of God with a rich legacy of adding value to leaders throughout the world."
"Dr. Bill Peel is one of the preeminent thinkers / writers / speakers in the Faith at Work Movement"
"Bill is not only a pioneer in the area of workplace missions, he remains on the cutting edge."
"Some people are remembered for their ideas, some for their words, and some few for the permanent change they make in a community. Bill Peel's influence in our community goes on today in the lives of individuals, businesses, churches and schools. He left a great legacy as a teacher, leader and disciple maker.
Conferences and Events
General's Prayer Breakfast, Second Infantry Division, U.S. Army, Republic of Korea
Center for Christian Business Ethics Today, New York
Oilfield Christian Fellowship, Dallas, Houston, Oklahoma City, Tulsa
Global Faith@Work Summits, Boston, Dallas, Chicago
RightNow Media's Work as Worship Conference, Dallas, TX
Promise Keepers National Men's Conferences
National Coalition of Men's Ministries
Community Leadership Conference, Barbados
Christian Medical Association Scientific Assembly
"Alive" Christian Music Festival
Evangelical Christian Publishers Association
Focus on the Family: Faith and Family Conference
National Pastors Conference, San Diego
Youth Leadership Conference, Poznan, Poland
Unity Foundation, Alexandria, MN
ECPA Book Expo, Nashville, TN
Alpha in the Workplace Conference, Dallas
FaithWork International Conference, Irvine, CA
Dallas Young Life Leader Training
NavPress Staff Training, Colorado Springs
Companies & Business Organizations



Matrix Design, Chicago, IL
CEO Institute, Dallas, TX
Convene Roundtable, Chicago, IL
National Self Storage Association Convention
Southwest Movers Association Convention
American Moving and Storage Association National Convention
Central Pennsylvania Marketplace Network
Brookshire Grocery Company, Tyler, TX
Health Care
Christian Medical Fellowship of Korea
Christian Medical Fellowship of Singapore
International Health Services, Budapest, Birmingham, UK, Singapore, and Macau, Peoples Republic of China
International Medical and Dental Association, Taipei, Taiwan, and Kreglinger, Germany
Christian Medical and Dental Associations Saline Solution and Grace Prescription Workshops
Churches
Perimeter Presbyterian Church, Atlanta, GA
First Baptist Church, Atlanta, GA
First Methodist Church, Houston, TX
Rolling Hills Covenant, Los Angeles, CA
Solana Beach Presbyterian Church, CA
Bent Tree Bible Church, Dallas, TX
Christ Presbyterian Church, Nashville, TN
Wooddale Church, Eden Prairie, MN
Hope Church, Singapore
Ex-pat Churches in the Peoples Republic of China
Park Cities Presbyterian Church, Dallas, TX
People's Cathedral, St. Michael, Barbados
Germantown Baptist Church, Memphis, TN
Manor Church, Lancaster, PA
Danube International Church, Budapest
Grace Church, Des Moines, IA
Mechanicsburg Brethren in Christ Church, Mechanicsburg, PA
Victory World Church, Atlanta, GA
Carlisle EV Free Church, Carlisle, PA
First Baptist Church, Tyler, TX
Frisco Bible Church, Frisco, TX
First Baptist Church, Conroe, TX
Oak Ridge Baptist Church, Spring, TX
First Presbyterian Church, West Chester, PA
Covenant Presbyterian Church, Austin, TX
First Baptist Church, Harrison, AR
Christ Fellowship, McKinney, TX
South Valley Christian Church, San Jose, CA
Discovery Church, Orlando, FL
First Methodist Church, Brentwood, TN
Westlake Bible Church, Austin, TX
Dallas Bible Church, Dallas, TX
Vanguard Church, Colorado Springs, CO
Frisco Bible Church, Frisco, TX
Grace Church, Frisco, TX
Genesis Church, McKinney, TX
Conference Centers
Pine Cove Conference Center
Sandy Cove Conference Center
Ozark Conferences
Academic Institutions



Christian Leadership Forum, SMU
Dallas Baptist University
Gordon-Conwell Seminary
Dallas Theological Seminary
Grace School of Theology
Tulane University, School of Medicine
University of Tennessee, School of Medicine
Meharry School of Medicine
University of Mississippi School of Medicine
University of Arkansas School of Medicine
In His Image Family Practice Residency
LeTourneau University
College of the Ozarks